January 20, 2019
Bigger Bolder Braver: God-Sized Goals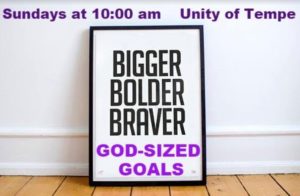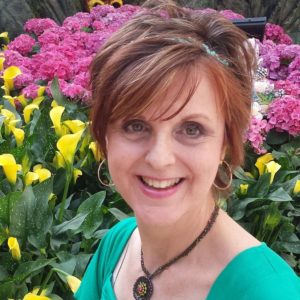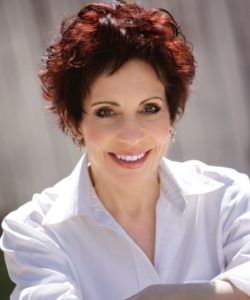 What are your top goals for this year? What do you want to achieve this year that will matter most in 5 years? Now is the perfect time to begin manifesting your dreams through audacious goals. You have important things you came here to do. Make this the year you take successful action by setting goals with achievable steps that align with your purpose.
Our spectacular songstress, Zephryn, has music planned which will ignite our goals with energy.
Bring your friends & family and join us this morning at Unity of Tempe!at 10:00!

Unity of Tempe
1819 W Drake Dr #101
Tempe AZ 85283

GONG MEDITATION
Sunday, January 20th - 1PM
at Unity of Tempe
WITH:  Dawn McGill M.Ed. certified Gong Masters & yoga instructors, RYT 200)
WHERE: Unity of Tempe, 1819 W. Drake Dr. #101,Tempe, AZ, 85283
WHEN: Sunday, January 20th at 1:00PM.  Please arrive on time.
⦁    RELAX and let the vibration of the symphonic gong allow you to enter into a deep state of meditation of the physical, emotional & spiritual bodies
⦁    Facilitated gentle movement to warm up the body
⦁    Be guided into the awakening of the chakra energy centers
⦁    Can be received laying down or seated
Wear comfortable clothes and bring a yoga mat, sleeping pad, pillow, blankets for under the knees and to cover up or anything needed to be supremely comfortable.
$15 love offering suggested, cash or check only please.
PRANIC HEALING WILL RETURN ON 1/9/19 at 7:30AM
MEDITATION ON THE TWIN HEARTS & PRANIC HEALING CLINIC
City of Tempe Unity Walk & Festival-Sat 1/26 @ 4:30PM
JOIN UNITY OF TEMPE FOR THE CITY OF TEMPE UNITY WALK - SEE REV JOE FOR DETAILS
Manifest Your Dreams!
Your Dream Lifestyle is ON It's Way To YOU!
ARE YOU READY FOR PROSPERITY IN YOUR LIFE!
...It's time to Get Started!
Prosperity Recipes for 2019:
I personally invite you to participate in our 2019 Prosperity Recipes Class to Manifest Vibrant Healthy Bodies, Harmonious Relationships, Joyful ways to share their Gifts and Talents with the World & MORE TREASURES (Money).
The Class Members who have attended several programs have experienced greater Prosperity. Come Back for 2019!
SAVE THESE DATES:
1st 2019 Prosperity Recipes Class ReUnion Meeting:
(For Past Class Member or Anyone Wishing to Attend)
Monday 4 February 2019
Our next Prosperity Recipes CLASS will Start:
(Anyone Wishing to Attract Prosperity Into their Life!)
Monday 4 March 2019!
Where:
Unity of Tempe Unity of Tempe Spiritual Center
1819 W Drake Dr Suite #101, Tempe, AZ 85283
When: EVERY MONDAY NIGHT
Ten Week Course 
6:00-8:30 PM Monday Nights
Cost: $10 per Weekly Session
 CALL MGM SHOULD YOU HAVE
QUESTIONS OR COMMENTS
MGM-480-280-6776
Please help me get the word out.
Please invite and send the Prosperity Recipes info to your Facebook Friends, Your Twitter Friends, Your Work Friends and Colleagues and anyone who you wish more Prosperity in their lives. We Want to Share the Wealth!
Spiritual Center
1819 W Drake Dr Suite #101, Tempe, AZ 85283
Love & Blessings,
MGM
Maureen G Mulvaney
MGM@mgmsuperstar.com
480-280-6776c 480-759-6251w